BoatHistoryReport.com Customer Support Hacks – How to Contact Boat History Report.com (Verihull LLC)
How to Contact Boat History Report Support
Undoubtedly, getting a boat history report can be challenging and if you pay for the top price in the market you expect the best service. This is not always the case. In other words, it is very stressful and hard to find a real contact person at Verihull LLC which is the parent company of BoatHistoryReport.com.
In this guide to contacting boat history report customer support, we are going to list the ways to contact their teams to get help and refunds. We provide their email, phone and social media handles. The best and easiest way to contact boat history report is via Email but getting a quick reply is not always going to happen.
What is BOATHISTORYREPORT (BHR)?
As a beginner or even an individual boat buyer, you may be wondering what a boat history report (BHR) is about. Well, in simple terms; Boat History Report is the #1 boat fax report provider in the US. It gives detailed information, about the historical registration data of a boat and is used by dealers and law enforcement agencies. Their data comes from state DNRs, insurance companies, brokers, and other bodies associated with boating.
Boat History Report was established in the year 2005 and it's located in Florida. They have over 120 million records for boats that include 1.4 million negative events such as accidents.
What Are My Options to contact Boat History Report (BHR) fast?
Phone: 1 800-441-7599
Email: info@boathistoryreport.com
Live chat: Not Available
Mail: Florida Mailing Address below
Fax: Not Available
Social Media: Listed below
Drop-in locations or centers: None Available
How Important is Boat History Report To Boat Buyers?
The importance of the BHR to boat buyers and sellers cannot be over-emphasized. As a boat buyer, you must know about the historical events of a given boat, especially if it is a used boat. Here are some benefits of using boat history checks:
Better Buying Decision: One of the numerous benefits of Boat History Report to clients is that it helps used boat buyers make better buying decisions. Since the BHR is known as one of the most trusted resources for watercraft history information. The information on a vessel, either positive or negative, will enable boat buyers to make an informed decision.
Helps To Avoid Hidden Problems: With the Boat History Report, you can easily avoid issues like accidents, collisions, total loss, seized, and more from used boats. The above top 5 points are some of the numerous why you should get a Boat History Report before buying any used boat.
Contact Boat History Report: Given that they are a small company, the phones and emails response times can be slow at times. Their website indicates a 24hour response window when you contact them. From emails we received from actual clients of theirs, the response was slower than the other Boat HIN Check sites we reviewed.
There are Alternative services that cost less. See Boat-Alert vs. BoatHistoryReport vs. Boatfax.
Refunds Contact info for Boathistoryreport.Com
Here is how to request a refund for your HIN Report from Boathistoryreport.com. Use the contact information listed below. If that does not work, contact your bank to cancel the payment.
For Refunds contact: info@boathistoryreport.com
Boat History Report (BHR) Support Contact Number – Call Boathistoryreport.com Phone Number
If you are wondering how you can contact Boat History Report fast. You can easily call them through their phone number 1-800-441-7599. Make sure you take note of the following calling hours and times below but not that they do not publish official operating hours for their offices:
Assumed Phone Operating Hours:
| | | |
| --- | --- | --- |
| By phone | Day | Time |
| Open | Mon-Friday | 9:00am – 5pm ET |
| Closed | Saturday | – |
| Closed | Sunday | – |
Table: Assumed Times and Days when the Verihull LLC is open – unofficial phone hours.
How Do I contact Boat History Report (BHR) Support Via Email?
The fastest way to reach out to the Boat History Report is through the email address for customer support service which is info@boathistoryreport.com. It takes up to 24hours to get response according to their website.
Why Is it So Difficult to Contact Boat History Report Support?
One of the predominant problems in getting across the Boat History Report through call is that they have limited hours of call time. Also, they do not pick up calls all through the week. The BHR official web page does not list office hours or available time during holidays. They are a small company with limited staff.
What is the web address for BHR?
The Official BOAT HISTORY REPORT web site address is https://boathistoryreport.com/. It is available 24/7 for ordering and support.
Can I contact BOAT HISTORY REPORT through social media?
Yes, you can contact them through social media handles like Facebook and Twitter. The links to their social media accounts are in the footer of their website and we list them here:
https://twitter.com/boat_history
https://www.facebook.com/boathistoryreport/
https://www.linkedin.com/company/boathistoryreport-com/
https://www.instagram.com/boathistoryreport/
https://www.youtube.com/user/BoatHistoryReport
https://goo.gl/maps/Qvs7BjvjfFrSUfut5
Mailing Addresses for the Boat History Report (BHR)
You can use this link to get details of the BHR mailing address; https://opencorporates.com/companies/us_fl/L05000061669 or use this mailing address to contact them; 411 WALNUT ST., #12841, GREEN COVE SPRINGS, FL, 32043.
Another mailing address for Boat History is 4901 Winwood Way, Orlando, FL 32819, USA.
Map Location: https://goo.gl/maps/Qvs7BjvjfFrSUfut5
Reasons To Contact Boathistoryreport.com (Verihull LLC) Customer Support
There are several reasons why you may want to contact Boat History Report. The following are some main reasons why people call BHR;
To Purchase a Report – You can contact BHR to buy more reports regarding your desired used boat.
To Cancel Subscription – Another reason why you may reach out to the Boat History Report is to cancel any subscription you no longer need as a dealer.
For A Refund – You can also contact the BHR to refund a reported fee.
To Ask Questions – You can also contact Boat History Reports to ask some vital questions regarding a used boat or hull ID number validation.
Technical Support – You can reach out to them for help or technical support if you undergo any issues on the website or with payments.
Does BHR have a mobile app?
No, Boathistoryreport does not have a mobile app for smartphones. You can only use their official website, email, or social media handles to contact them.
Does BOATHISTORYREPORT.COM have an online help center? – support through the website
Yes there is a support center website with questions and answers (FAQs) that you can use before contacting them: https://boathistoryreport.force.com/s/
How to report an issue to the Verihull LLC
If you need to report a problem to BoathistoryReport, you can log your issue using the form on this page https://boathistoryreport.force.com/s/contactsupport.
Directors and staff you can contact at Verihull LLC
You can contact the following persons at Boat history report;
Caroline Mantel, director: caroline@boathistoryreport.com
GARY WALK, agent
GRANT BROOKS, CEO
Trey Long, CTO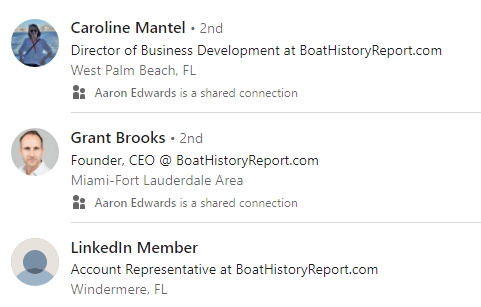 Other Websites Owned By Verihull LLC
boathistoryreport.com
boathistory.com
blog.boathistoryreport.com
boathistoryreport.force.com/s/
How to give feedback to BOATHISTORYREPORT.com?
If you need to send feedback to Boat History Report, you can log your issue using the form on this page https://boathistoryreport.force.com/s/contactsupport.
Conclusion On How to Contact Boat History Report
On a final note, we have been able to cover what Boat History Report is about, why it can be so hard to contact customer support at BHR, and listed their phone and email. The help center can be a good starting point for many questions.
Nevertheless, the importance of the Boat History Report to clients, especially used boat buyers cannot be understated, hence, it is imperative to get one before you make any used boat purchase. In other articles we suggested getting all the reports from all the companies to cover your bases.