I will start by saying that although such a report is not a replacement for a complete and thorough survey on the vessel's present condition it does provide an easy method of checking for negative events in a boat's history before finalizing the purchase. It is also a good selling tool when promoting your boat online. Many people expect a history of all events and not just an indication of negative events.
It is important to read the product description before you buy the product in order to set expectations correctly.
Below I compare the top 3 HIN Search websites:
Don't have time to read? check out the summary chart here comparing those boat report companies.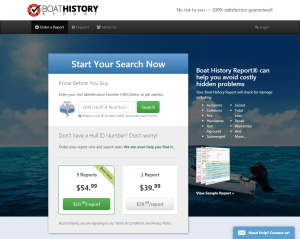 BOAT HISTORY REPORT (www.boathistoryreport.com)
Going through this boat history site, it seems simple and easy to use with provisions like a search box for your HIN. The ordering process involves giving your credit card and email to them instead of using a secure gateway like PayPal. When it comes to prices it is the highest priced report and this is expected given the fact that it is a company with many employees and larger overheads that get passed to the consumer for the same data you can get with other smaller sized companies.
This company (B. H. R) has many partnerships within the boating industry and their reports indicate that "coming soon" data for surveyors has been approved by N. A. M. S and S. A. M. S list of surveyors.
There are many negative comments on this company however in the online forums. here are two examples where the employees try to defend the company:
https://www.thehulltruth.com/boating-forum/283209-boat-history-reports-worth.html
http://www.cruisersforum.com/forums/f47/boat-history-reports-worth-it-and-reliable-92693.html
There has been a very heavy criticism from the BoatU.S. Consumer Protection Bureau here: http://my.boatus.com/consumer/historyhollow.asp
My verdict
This is a good site to check for boat problems and is the leader but for the same amount of money you can get both reports from the competitors below. Ideally, you would get all reports to make sure no one missed anything (if you can afford it).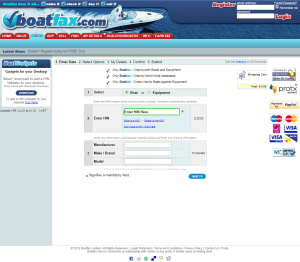 BOATFAX (www.boatfax.com)
Based in the UK, this site has a diverse capability of offerings including dealer classifies, boat history reports, used boats apps, HIN Decoding app, and boat value app. All these features are great but make it hard to go though the site as a result of too many unrelated menus and pages.
The base prices comes with a lot of add-ons costing $3, $5 and $6 more but there are coupons available out there. Payment can be done via PayPal or credit card making it more secure than BoatHistoryReport.com. The report is not as pretty though.
A distinctive feature is that, boatfax.com can be used to search outside U.S.A (Europe inclusive) however; such searches cost particular add-ons too.
My verdict
The site should be less cluttered and modernized but the reports are good on a technical level and if you can find some coupons that would cut the cost.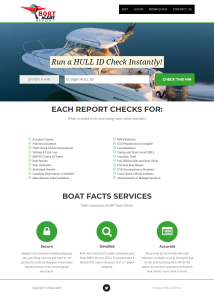 BOAT ALERT (www.Boat-Alert.com)
This newer site is for a smaller company making the price lower for consumers. It is easy to use and provides one product only with an instant download of the boat history alert.
The report is printable and provides lots of advice even when little data is found on negative events. It is worth the time to read the content of your report. Payments are being made via Clickbank and PayPal so you are guaranteed a 60-day money back purchase.
They do offer coupons that you can use to obtain the other reports at a discounted rate so I would suggest starting with the Boat-Alert then buying more reports if you need to. There is also a link to the report that you can use to share the report with buyers/sellers online.
My verdict
Looking at the comparison chart uploaded on this blog, you can see that Boat-Alert.com has the most amount of data types and checks available and for the lowest price without add-ons. The site improved a lot since my last review in 2016. The report is not as pretty as the others but the most useful. They also check 22+ databases so that saved me time
Conclusion:
Some of the companies have more varied data points while others focus on fewer data types but provide more details instead. Consumers should be aware they need a thorough survey on the vessel's present state and that these reports are mainly looking for negative events and to read the product description to not get surprised with "missing data" that they expected to see.
---
Data Not included in ANY report: 

 maintenance records
 owner names from states that ban this
 Certified Marine Surveyors data
 engine info
 length of boat
 Warranty Claims or Insurance Claims
 Environmental lien
 equipment check and motor VIN number
---
Special note about MARINE TITLE (www. marinetitle.com)
Although this website is full of information, the report they provide has the same data that is included in the boat-alert.com report so there is no need to review it independently as the boat-alert report will simply have this data anyway and more.